For my first recipe of working through the a
d hoc at home
cookbook by Thomas Keller, I decided to start (relatively) easy with something I've already made - Buttermilk Fried Chicken. I've made various versions of Buttermilk Fried Chicken over the years with
Alton Brown's
being a personal favorite..until now.
Oh my goodness was this fried chicken delicious. It was nothing like I had ever tried or made myself before. The clear difference was the brine. The brine included garlic, peppercorns, flat leaf parsley, honey (that was a surprise) and lemons. The brine ingredients are brought to a boil on the stove top then cooled completely before adding in the raw chicken pieces which then are to brine for 12 hours in the refrigerator.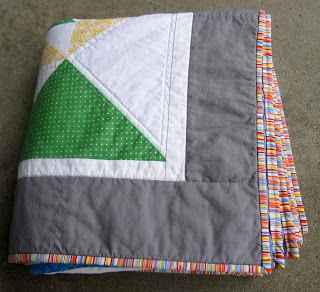 Chicken Brine
After 12 hours in the brine, the chicken is drained, rinsed and dried. I deviated from the recipe with my choice of chicken - instead of cutting up a chicken and frying all pieces, I used chicken breasts. I'm such a wus when it comes to meat on bones. After drying, the chicken pieces are dredged in a flour/spice mixture then dived into a buttermilk bath and then covered again with flour/spice mixture.
Then it's into the hot oil for about 10 minutes.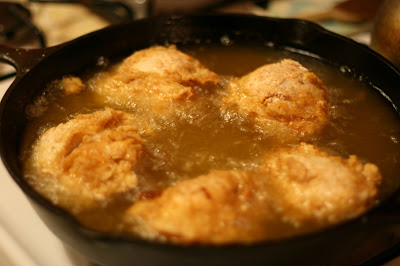 Once out of the hot oil and rested for about 5 minutes, the fried chicken is ready to eat. The double coating of flour/spice mixture makes all the difference for the amazing crunch this chicken has. I would imagine if you are using chicken pieces with the skin on, it would be off the charts. Inside the chicken was so incredibly tender from the brine and had a definite lemon flavor which added depth to the chicken. My older son kept singing the praises of this recipe.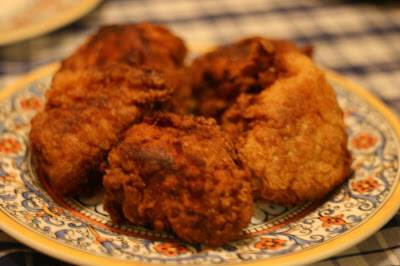 Buttermilk Fried Chicken
I made biscuits to accompany the fried chicken for my boys - they love making little chicken biscuit sandwiches. My younger son started making one and I said "Stop! Let me go get the camera!" as I was running down the hall....they were all laughing at me.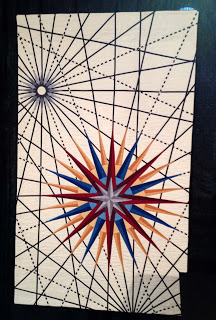 Chicken Biscuit Sandwich
I'm linking up with Debbie's
Tuesday at the Table
feature. Go check out her Mod Crosses - very cool!
Although I began with a fairly easy (for me) recipe, I enjoyed the process that Chef Keller has the reader follow for his recipes and I learned a few things along the way. His introduction prompted me to spend two hours cleaning and organizing my spice and baking pantry. A job well worth my time. As for fried chicken - a double coating is a must from now on....
Eat well and enjoy your Tuesday,
Susan