One of my favorite time of the day is when the four of us sit down together to eat dinner and luckily we still do at least five out of seven nights of the week. With my older son playing club soccer some nights he is away playing until 8pm and would rather eat his dinner after he returns from practice - something I completely understand as who wants to eat a big meal just before you go run around? The later meal for him does not require the rest of us to wait...we eat in shifts. Last night's meal was perfect for a meal in shifts: Lasagna.
I used the Three-Cheese Lasagna With Italian Sausage recipe from Epicurious.com. You can find it
here
.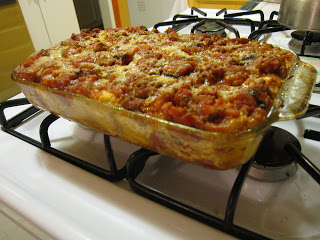 Three-Cheese Lasagna with Italian Sausage
Lasagna in Shifts Timeline:
6:00pm Lasagna out of the oven
6:10pm Focaccia out of the oven
~conversation between the husband and I~
"Susan, that smells and looks so good, let's eat it now and skip the gym tonight."
"Are you sure you don't want to get a run in?"
"No way - I'd rather eat that instead of run."
6:15pm Serve dinner to younger son (he actually likes it - score one for me)
6:45pm Serve dinner to the husband and I after taking older son to soccer practice (both he and I like it - score another two points for me)
8:35ish pm Serve diner to the older son (Perfecto! he exclaims after his first bite....eats enough for three - another point for me)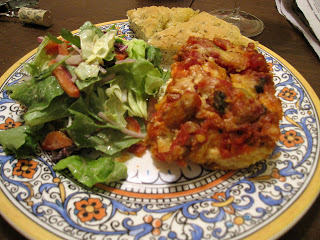 Nothing like making people happy with the food you make - even eaten in shifts.
Normally I would ask you to visit Debbie's
Tuesday at the Table
feature to see what other's are sharing this week and I still am....but I also want you to visit her
One Year Blogiversary post
- please visit to wish her a Happy Anniversary and to enter her giveaway. We are all richer to not only have her around our table but also to have her in our quilting blog community.
Enjoy your day!
Susan